Once again I have to redirect you to a fab Fashion Statement article from the Guardian because they are just so amazingly well written!if you can´t outdo it-join it! (or steel it, which ever way of looking at it makes you more comfertable)
"What we learned from the royal wedding"
Kate Carter
guardian.co.uk, Thursday 5 May 2011 17.00 BST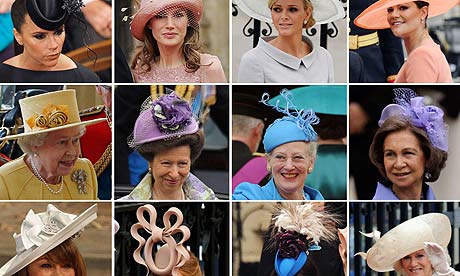 Hats at the royal wedding, including several by Philip Treacy. Photograph: AFP/Getty Images
FASHION DILEMMA
What did we learn from the royal wedding?
For months Fashion Statement has resisted the lure of that wedding. Even during a sustained blitz of press releases promoting hideous wedding-themed tat (our personal favourite? The "scent of a royal wedding" candle. Presumably the mingled nausea-inducing odours of hysterical tabloid columnists, with base notes of paparazzi sweat), we kept a dignified silence. OK, a silence. But just when we thought it was all over, we've succumbed. No, don't be ridiculous, not to romanticism and happiness. Tsk, FS is more cynical than that. Instead we have plumbed the depths of writing about it. Sorry. But think of it as a purge: better out than in.
So here are five things you didn't want to know about the wedding and certainly never asked. And from next week we promise NEVER TO MENTION IT AGAIN.
1. Grazia got THE exclusive. No, not the scoop on the dress. Not the honeymoon destination. Nope, in their 'live' issue they exclusively revealed the contents of Carole Middleton's handbag. Fox's mints, lip liner and Elizabeth Arden Eight Hour Cream, apparently. Now we can all sleep easy at night.
2. Philip Treacy has discovered anti-gravity. How else do you explain the fact that every single one of his 34,235 hat/fascinator creations stuck out at an angle previously unknown to science? He also must have some kind of superinjunction preventing criticism of his designs, as no one seems able to point out that they were all utterly ridiculous.
3. Grazia also scoops the prize for the most patronising comment on Mrs Middleton - a highly contested field. Katie Grand, editor of Love magazine, had this to say about her outfit: "She's come a long way since BA, hasn't she?"
4. Apparently along with the retro bunting, the old-fashioned sense of Britishness, blah blah blah, we are also returning to the happy days of sexism. Exhibit A: Pippa Middleton's physique nominated for award.
5. Kate Middleton is rumoured to have spent the ... nope, sorry. The veil has descended back over our eyes and we don't care enough to continue. Normal service is now resumed. As you were.
Click here for the complete article from the Guardian!